The 2021 Subaru Love Promise Customer and Community Commitment Award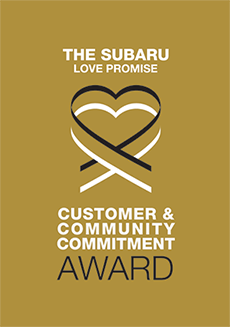 We've been nationally recognized for our dedication to our customers, our community, and the Subaru Love Promise.
We're honored to receive the 2021 Subaru Love Promise Customer and Community Commitment Award. This award nationally recognizes elite Subaru retailers who provide an exceptional customer experience at every interaction with Subaru. These retailers have also demonstrated an outstanding commitment to supporting passions and causes in their local communities in important areas such as the environment, community, health, education, and pets.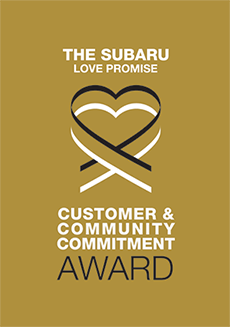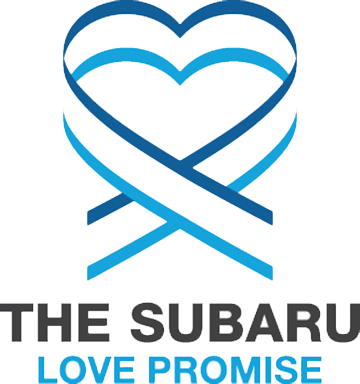 What is the Subaru Love Promise?
Subaru and our retailers believe in making the world a better place and the Subaru Love Promise is our vision of respecting all people. This is our commitment to show love and respect to our customers and to work to make a positive impact in the world.
How is Falcone Subaru dedicated locally to the Love Promise?
We care. We support. We give back. At Falcone Subaru, we love to give back to our community. Our Falcone team members and our customers have helped raise money, supplies and awareness for the following organizations:
Humane Society, The Battle Buddy Foundation, Heaven after Hell Rescue, Face Low-Cost Animal Clinic
Boy Scouts of America Troop 894
Brownsburg Education Foundation, Dress for Success, IPS #14 Class Donations
Habit of the Heart, Handicapable Camp, Toys for Tots, Girl Scouts of Indiana, Camp Courage
Voice of the Victim, Little Red Door Cancer Agency, The Leukemia & Lymphoma Society
Love Promise Stories from Falcone Subaru
Subaru and Falcone Subaru believe in making a positive impact on the communities in which we live and work. We uphold that belief through our Love Promise Community Commitment. Every month, we select inspiring stories from customers and partners from around our area who strive to support our collective commitment and feature them here
Achieve Indy...Share the Love - James C
This is our first year to be a part of the Subaru Share the Love Event and we are beyond grateful to Subaru and the Falcone family and staff for selecting us. Achieve Indy has been a consistent presence to families in Indianapolis since 2008. We depend on private donations and grants to fund our services because our students and their families live in neighborhoods where the poverty rate is hovering at fifty percent. When COVID struck last year, we made the decision very early not to wait for the "storm" to pass or to sit and hope things would return to normal. We mobilized our services and resources. We delivered both prepared meals and pantry items to our families in their homes throughout the summer. With the rapid growth of COVID 19 in the inner city and the disproportionate effect on the health of the African American community, it was also crucial to deliver masks, hand sanitizer, and the best information possible from our local, state and federal governments concerning the pandemic to our students and their families. Achieve also found it crucial to provide services to help navigate the complex systems and services that were needed. We continued our diploma program as well and watched our students go beyond the basics of a high school diploma to higher education, jobs and service in the military. The Share the Love Event helps to ensure that we will continue our mission and allow us to adapt to circumstances as they arise. We are so happy to be a part of the Subaru family!
---
Share the Love of Education - Rene B
The continued partnership between Falcone Subaru and the Brownsburg Education Foundation (BEF) is changing the lives of students in Brownsburg. Through this generous gift from Falcone Subaru, BEF is able to impact the learning of every student in the Brownsburg Community School Corporation. This money will go toward purchasing STEM materials, comprehension cards, weekly current event magazines, books that help students understand the importance of diversity and inclusion, books that also help to facilitate social and emotional learning, and art supplies that enhance the creativity of each student. These are just a few of the many educational tools that will be purchased and can help to develop the creative and innovative learning of each student at school. The Brownsburg Education Foundation is thankful for the Falcone family's dedication to our school community!
---
An October to remember - adoption success story! - Amanda R
This year, like many others, we've been hit hard financially be the restrictions COVID has placed on everyone. We are solely supported by fundraising efforts and volunteers, so when most of those have been cancelled, we've been struggling to keep up with our medical bills and continue our work of pulling animals in need. Falcone Subaru has been an amazing supporter of ours and continues to step up to the plate! We couldn't have been more excited to hear that they were going to donate $100 per animal that was donated during the month of October. Not only were we able to find 30 homes for loving dogs and cats this month, but the $3,000 donation will also allow us to make sure those animals are taken care of medically before they go on to live with their forever family. On top of that, they also hosted a supply drive for us to help provide nourising meals and playtime for our four legged friends. We can't thank them enough for all that they do for us and the entire community!
---
Falcone supports Race Away From Domestic Violence - Melissa I
Thank you to the team at Falcone Subaru for continuing to collect and donate water for the Indiana Coalition Against Domestic Violence's 5k fundraiser. This year, the funds from this event are more critical than ever to help survivors of domestic violence in the wake of a global pandemic. I always look forward to picking up water from the service center because everyone is so friendly and helpful! This year, they even fixed my tire pressure after loading up the car. We are so grateful for their continued support.
---
Promising to Enhance Education - Rene B
The Brownsburg Education Foundation was honored and excited to receive $50,000 from Falcone Subaru as part of the Share the Love campaign in 2019. Words cannot express our gratitude for this generous gift, and these funds will change the lives of the 9,400 students in the Brownsburg Community School Corporation by providing educational experiences for them that otherwise would not be possible. Some of the programs that this money will assist in funding are: - the Log Cabin Homestead where all 700 third grade students spend the day as pioneer children and learn Brownsburg history in a hands-on way as they make butter, write with a quill and do pioneer chores. - purchasing video cameras for the high school TV and production class so that they can broadcast high school sporting and other events for the community to enjoy. - robotics clubs and STEM materials to engage students and make them competent and capable 21st Century learners. - BOOKS! Many books...for book clubs, morning meetings, cross-curricular lessons and increasing classroom libraries with dynamic and relevant titles. These are just a few of the many ways that this funding will impact the students and enhance their education in nearly every way. We are so thankful for our partnership with Falcone Subaru and the opportunities that they are able to provide to the students in Brownsburg. Thank you!
---
Cup of Joe, Anyone? - Circle K
Mr. Falcone not only gets his cup of coffee from us every morning on his way to work, but also helps us support important causes. We help many charities at our convenience store and set goals to raise a certain amount of money; Mr. Falcone always helps us achieve these charity goals. He recently donated $500 to March of Dimes, which helps every baby have a brighter future. This is just one of the many ways he helps our store support the community. Mr. Falcone and Falcone Subaru believe in making a difference in the world, and we're grateful to have a customer and local dealer who cares about making an impact.
---
Donor's Choose - Kalie H
The Falcone family always goes above & beyond! Just recently they went out of their way to support my Donor's Choose Project. Donor's Choose is a fundraising site that helps teachers raise money for materials that will support their classroom. Falcone Subaru made a donation to my project that helped me reach my goal to get flexible seating for my 24 Kindergarten students! Thank you for supporting one of your local Kindergarten classes!
---
Who doesn't love Girl Scout cookies??? - Abby D
It's been a busy cookie season for my third grade Brownies. We've been out in the snow & freezing rain for the last three weekends. Imagine their excitement when the Falcones pulled up to their drive-thru cookie booth & placed a HUGE order of Girl Scout cookies! It's wonderful for the girls to receive recognition for their perseverance, & the Falcone Subaru order helped us reach our troop goal, & pushed the girls to set a new one. We'll be using the money we get from our cookie sales to help out a local animal clinic, & a local children's hospital, in addition to some fun activities. That one cookie order will help us help our community in even more ways. Thank you for supporting Girl Scouts of Central Indiana & Troop 375!
---
Science Books That Students Love! - Rene B
The Brownsburg Education Foundation was the grateful recipient of 150 high-interest science books from Falcone Subaru through the Subaru Loves Learning program. These books were shared with all 12 schools in the Brownsburg Community School Corporation to benefit students in preschool through grade 12. The students are devouring these engaging books that bring science to life and help all children learn more about the world around them. The Brownsburg Education Foundation is so thankful for the commitment of Falcone Subaru to education and the communities they serve!
---
Thank you from Little Red Door Cancer Agency! - Morgan J
Little Red Door has had the honor of partnering with Falcone Automotive for three years now and we were thrilled to continue that partnership. Falcone raised funds throughout the month of October to go back to our client services. Little Red Door is dedicated to providing support services to those that are actively battling a cancer diagnosis, those in their survivorship, and caregivers. Our programs include nutritional supplement support, transportation assistance to and from treatment appointments, complimentary health and therapy programs, summer kids camps, and education/navigation support. We couldn't carry out our mission in the community without the support from community partners like Falcone Automotive. Thank you for your support of Little Red Door and for your dedication to the community!
---
FACE Low-Cost Animal Clinic Loves Falcone - Samantha B
We are honored to continue our partnership with Falcone for another year. Falcone helps our organization by donating much needed food and supplies for the animals we care for on a daily basis. Their commitment to the community is inspiring and Darcy is wonderful!
---
Falcone Supports Love of Labs Indiana - Kathleen D
Love of Labs Indiana (LOLIN) is thrilled to have Falcone Subaru as a Platinum sponsor of Labapalooza! LOLIN is a volunteer run rescue group in the greater Indianapolis area that depends entirely on donations, adoption fees and fundraisers. Last year LOLIN placed 192 dogs in loving homes, and treated 38 heartworm positive dogs. LOLIN is committed to ending the killing of homeless dogs in Indiana and surrounding states. The largest fundraiser for LOLIN is the annual Labapalooza event; this year held on September 15, 2019 at Mallow Run Winery. It is a family friendly, dog friendly event. Thank you Falcone Subaru for your love and support of local dogs in need!!
---
Subaru Loves to Care - Holly D
On July 25, The Leukemia & Lymphoma Society, Indiana Chapter and Falcone Subaru had the pleasure of delivering 80 blankets to Indiana University Health's Cancer Resource Center & 30 craft kits to Riley Cheer Guild donated by Falcone Subaru plus toys and more art supplies graciously donated by their customers as part of the Subaru Loves To Care program. The Riley Cheer Guild is a volunteer auxiliary that provides comfort and cheer to patients and caregivers at Riley Hospital for Children at IU Health and the IU Health adult hospitals on the academic health center in downtown Indianapolis. These comforting gifts were accompanied by personalized messages of hope written by the customers and staff of Falcone Subaru.The hospital staff were thrilled for the donation as their patients enjoy the craft kits and appreciate the warm sentiment of the blankets during treatment. LLS is proud to partner with Subaru to spread hope, love and warmth to those fighting cancer, across the country and right here in the Indianapolis, IN community.
---
Falcone Subaru Shares the Love for Education - Rene B
The Brownsburg Education Foundation is honored to be chosen as the Falcone Subaru Share the Love Hometown Partner for the second year in a row. Through the generous support of Falcone Subaru through this program, classroom projects that otherwise would not be possible are funded for the students in the Brownsburg community. From 3-D printers that prepare students for careers in the 21st century to books that enhance book clubs at various grade levels to cameras for the high school photography class, materials have been purchased that provide innovative and creative experiences for all 9,200 students in the Brownsburg Community Schools, thanks to this generous support from Falcone Subaru.
---
Race Away From Domestic Violence Water Donation - Melissa I
Falcone Subaru (and customers of Falcone) donated cases of water for our 16th annual 5k event. Thank you for helping keep our participants hydrated so they could raise awareness for domestic violence programs and resources and raise critical funds to help survivors and prevent domestic violence in our state.
---
Subaru Loves Learning Books for Brownsburg Schools - Rene B
The Brownsburg Education Foundation was honored to accept 150 science-themed books from Falcone Subaru through the Subaru Loves Learning program. These books will be used by all Brownsburg students at every school, from preschool to high school. The books will enhance the students' understanding of science concepts and be enjoyed for many years to come! The Brownsburg Education Foundation is grateful for the generous support of Falcone Subaru for the students of the Brownsburg Community Schools.
---
FACE Low-Cost Animal Clinic Loves Falcone Subaru! - Samantha B
Falcone Subaru selected our organization to support during their Pet Month. Not only did Falcone customers show their generosity through a large pet food supply donation but Falcone shared with their customer base our mission and the importance of the services we provide in our community. We feel so honored to have been chosen and look forward to this partnership continuing for many years to come.
---
FALCONE SUBARU SAVES THE DAY……OUR HEROES!! - Ruthanne V
Subaru of Indiana Automotive, Inc. has been a long term host, and title sponsor at an annual golf outing for several years to benefit the United Way of Greater Lafayette. This year, they were unfortunately unable to do so. We were in desperate need of a Title sponsor for our event. We reached out to Bob Falcone of Falcone Subaru in Indianapolis and Bob agreed to be our Title Sponsor without missing a beat. Thanks to his generosity, we were able to have an amazing event at Purdue's Kampen Course in West Lafayette raising over $60,000.00 for the United Way. Thank you, Bob, for your amazing generosity and thank you for partnering with us to improve Tippecanoe County. We couldn't have done it without you and your amazing team!!
---
Sharing warmth and comfort with cancer patients - Alison S
Indiana University Health's Cancer Resource Center graciously accepted Falcone Subaru and The Leukemia & Lymphoma Society's in-kind donation of brand new blankets for oncology patients. These blankets will help bring comfort and keep patients warm during their treatment. After sharing the blankets with the Cancer Resource Center, we drove around the block to Riley Children's Hospital where we met Denise Wagner of the Riley Cheer Guild. We walked up to the Toy Room, where thousands of toys are inspected, sorted, labeled, and given to children every month. Once the guild receives a donation like the Subaru Loves to Care craft kits, they alert the child life specialists of the donation for pediatric oncology patients, and the specialists can then "shop" for their patients. Thank you to Falcone Subaru for bringing warmth, love, and care to local cancer patients through your gifts to Indiana University Health's Cancer Resource Center and Riley Children's Hospital!
---
Brownsburg Ed. Foundation Loves Falcone Subaru! - Rene B
The Brownsburg Education Foundation is so grateful for the generous support of Falcone Subaru through the Subaru Share the Love Program. The money donated to BEF will be used to fund many classroom grants across all subject areas and grade levels as well as scholarships to graduating seniors. These opportunities could not be possible without the commitment of donors like Falcone Subaru. Here are some quotes from students that exemplify the difference that is being made for them: "I want to be a scientist when I grow up and this is where it starts." (said by Levi about a Science Club funded at his school through a BEF grant) "I like learning new things like the airplanes and doing research because I don't know a lot about airplanes and I learned more. I am growing like a tree."(said by Adrianna about STEM activities funded through a BEF grant).Thank you, Falcone Subaru, for inspiring these students to be all that they can be!
---
Heaven After Hell Loves Falcone! - Miranda P
We have been honored to be partnered with Falcone for a few years! They continuously help our cause with silent auction donations, their "Subaru Loves Pets" months and being our community partner in the Brackets For Good donation competition! They are doing amazing things in their community and we are forever grateful! Thank you all!!
---
Falcone Subaru Loves Brownsburg Schools - Rene B
The Brownsburg Education Foundation is honored not only to be chosen as the Falcone Subaru Hometown Charity for 2017, but also to accept a donation of 150 science books through the Subaru Loves Learning Program for the students of the Brownsburg Community Schools. These books will benefit students in preschool through high school with their engaging stories and high interest topics. Students will be inspired to learn more about various themes with these science books that were specifically chosen to complement their science curriculum. The Brownsburg Education Foundation and Brownsburg Schools are grateful for the commitment of Falcone Subaru to education and the generosity that they show to the community.
---
Habit of the Heart Love - Ginger N
Dear Bob and Darcy! You will never know how grateful Habit of the Heart is for your generous donation! It is because of you we are able to help so many women, children and families in need in Hendricks County. Just a few examples are: A grandmother received immediate custody of her two grandchildren, one an infant born addicted to meth and heroin, she was unable to afford diapers, clothing and basic supplies to help them until medicaid could be activated. We were able to provide these things so she could devote her time to helping these children heal. Another is: A mother and her seven children came from California to escape an abusive situation. They had only there clothing, all were sleeping on the floor because they didn't have beds or bedding. We were able to provide beds and bedding so the children could get the necessary sleep to learn in the classroom. Another is a family whose mother has terminal cancer and the father wanted to get counseling for their young child to help him cope with his mother being terminal. They couldn't afford it because of moms medical bills. We are paying for a counseling for this young man. All of these and many more are because of your generosity! Thank You for sharing the love so we can!
---
Habit of the Heart Heart and Sole Project - Linda K
Habit of the Heart is a fund that assists children, women and families in emergent need in Hendricks County. Through the Share the Love program, Falcone Subaru helped to fund a program called Heart & Sole which provided monies to our county schools for the purchase of shoes for students in need. We granted over $10,000 in shoes to 44 schools in Hendricks County. Thanks to the generosity of Falcone Subaru and the Share the Love program, we are able to continue this program again next year. Thank you from the members of Habit of the Heart!
---
Subaru and LLS Love to Care! - Alison S
Thank you to Falcone Subaru – and especially to Darcy! – for literally bringing warmth to cancer patients at IU Simon Cancer Center with these beautiful dark blue blankets, arts & crafts kits, and thoughtful and caring cards for patients through Subaru Loves to Care! The Leukemia & Lymphoma Society is honored to partner with you to bring light to patients during a time that can be full of darkness. The gifts from Subaru are being distributed already, and IU Simon shared that it is a really thoughtful and popular surprise for patients. Thank you again for your caring and thoughtful touches of support to local cancer patients!
---
Subaru and NWF Love the Earth! - Emily C
The students in our garden club just added native plants to our school courtyard area and placed additional elements to create a critter-friendly space in the middle of our school! Our garden space will continue to develop and expand this coming fall. Thank you, Falcone Subaru!
---
Middle School Garden Club Blooms - Emily C
Students from Noblesville West Middle School are creating critter-friendly spaces where they learn. Thanks to a donation from Falcone Subaru in partnership with the National Wildlife Federation, the founding members of our school garden club planted native plants and setup wildlife habitats at the end of May. Students are developing further goals and additions to our school garden this coming fall and are thankful for the help from Falcone Subaru to get them started. Subaru Loves the Earth!
---
Share the Love Make-A-Wish - Morgan J
From the bottom of our hearts, thank you to everyone at Falcone Subaru! Your team has gone above and beyond for Make-A-Wish through your "Share the Love" campaign. Thank you for helping us grant wishes for local children here in Indiana! You have given these children hope, strength and joy at a time when they needed it most. The impact of a wish is both powerful and lasting, not only to the wish child, but to everyone involved. We are so grateful for your support of our mission!
---
Washington Irving School 14 Supply Donation - Shane V
On behalf of the staff of Washington Irving, School 14, we would like to extend a huge thank you to Angela Pacey and Darcy Falcone for all the school supplies. They will definitely come in handy! Washington Irving has a high transient population, and nearly 100% of our students are on free and reduced lunch. As you can imagine, the parents and the staff are extremely grateful when the community comes together to help support these young scholars. We are only capable of doing so much, but when we all work together as a community, we have a better chance of enriching the lives of these young students.
---
Indy Honor Flight - Angela P
My grandfather had such a great time when he was invited to go to Washington DC with the Indy Honor Flight! It was a whirlwind day filled with laughter and tears and I will never forget how I his face lit up when he told me how was treated by complete strangers on his trip. I was at the airport when they landed back in Indianapolis and I was brought to tears seeing 3,000 people at the airport cheering for 200 WW2 veterans. The Indy Honor Flight volunteers made my grandfather feel like he was a superstar! I'm really happy that Falcone Subaru is supporting such a great organization like this one!
---
Share The Love - Thank You! - Kelsey L
To our friends at Falcone Subaru, We wanted to take this opportunity to send our sincerest thanks to everyone on your team for supporting the 2014 "Share the Love" event. As you know, Make-A-Wish was one of the four national charities that benefitted from "Share the Love," but what you might not realize is that Make-A-Wish Ohio, Kentucky & Indiana, right here in your neighborhood, received the funds raised locally. These funds are used to help grant wishes for kids like Victoria, 10, who wished to go on a shopping spree. Every 37 minutes a wish is granted somewhere in the U.S. Each wish serves as a new beginning for the wish child and family, to reclaim and resume life on their own terms. Life gets better for everyone involved when a wish comes true. Thanks to the support from Subaru of America and Subaru dealerships across the country, just like yours, more than 860 wishes have been granted the past four years. Thank you for all that you do to help make wishes come true. Please enjoy this short video with another message of thanks. You are welcome to post this on your website and/or social media channels! https://www.youtube.com/watch?v=xESpQgb8YPo Sincerely, Kelsey
---
My first week at Falcone Subaru - Rachel A
I started working at Falcone Subaru as soon as the Share the Love event started. From the beginning, I was given the opportunity to assist our Marketing Manager, Darcy Falcone, with this event. I researched & learned the history of "sharing the Love" through Subaru. The event, in essence, is a way for Subaru owners to give back to select charities. The charities involved consisted of 4 national charities & 1 local charity, Habit of the Heart (HOTH). HOTH helps Hendricks County women & children in emergency need. Darcy asked for some assistance with promoting this local charity. I've always had a passion for helping the community & could not wait to be involved. She informed me that if a customer decides to choose our local charity, Subaru will donate $250 to the Habit of The Heart fund. We both became attached to the idea of knowing we could help change women & children's lives by giving. When the event ended, Falcone Subaru raised over $14,000 for Habit of the Heart. It was such an honor to be able to present a check to this charity. We have the upmost respect for all the ladies who are volunteers for HOTH. We also know we could not have raised what we did without the Subaru Share the Love event, and our wonderful customers! We would personally like to thank all of the ladies from Habit of the Heart, customers of Falcone Subaru, Bob Falcone and Subaru of America for generating charitable donations throughout the years. Subaru has truly created an amazing event!
---
Honorary Members - Rachel A
Habit of the Heart made Darcy Falcone and me honorary members. We had a blast during this event. Thanks Falcone for knowing how to support and give back to the community! We are beyond grateful to work for a company who knows the meaning of giving!
---
Partnering To Make A Better Community - Angela P
Voice of the Victim works with victims and survivors of domestic abuse and abusive behaviors. We help men and women to move beyond being a victim to a survivor and ultimately THRIVER in spite of what they have had to endure. We work with local shelters and other organizations to help others to heal and learn to love themselves enough to walk away from harmful situations. We also help them to find resources and tools that will aid in their success AFTER they have left their abuser. We also have a youth program, "Learn To Love You". This program teaches our youth to love and appreciate themselves for who they are. We guide them to making good choices and we help them to recover when they have made poor choices. We believe that the best way to fix a vase is to not let it get broken in the first place. So we work with young people to help them see the greatness they have inside themselves, which will in turn, help them to make better choices in life. The Subaru Love Promise has been key in our success in our Learn to Love You Scholarship Program. This program is for high school seniors/first time college freshmen who have a minimum gpa of 2.25. Last year we were able to give three student scholarships. Your generosity and support is helping US to help OTHERS!
---
Camp Courage thanks Falcone Subaru - Camp Courage P
Camp Courage was the recipient of a donation drive held by Falcone Subaru. We were so grateful for the kindness extended to us by Falcone employees and patrons! We were able to reach many of our active duty military with your donations! We will always hold a special place for Falcone Subaru...because of their love for our guys and gals in uniform who have selflessly chosen to serve our great nation during conflict and peace. With gratitude for your SUPPORT! Camp Courage www.campcourage.biz https://www.facebook.com/groups/campcourageusmc/
---
Safe Design at Brownsburg High School - Rene B
Visual arts teacher, Lori Woodcock, thought of this project partly due to the growing enrollment at Brownsburg High School. She saw a need for there to be clear and efficient communication regarding evacuation procedures throughout the building. She wanted her digital design students to create new signs and then have them professionally printed to be hung throughout the school. Prior to her project, each room had an evacuation plan posted on a hard-to-read letter-sized piece of paper and no evacuation plans were posted in the hallways. Lori applied for a grant through the Brownsburg Education Foundation, supported through funds from Falcone Subaru, that involved her digital design students learning how a designer communicates with their audience and influences their behavior through the creation of dynamic, creative, and successful designs that make our world a safer place. Through the implementation of this project, students read the book Go: A Kidd's Guide to Graphic Design by Chip Kidd and used the knowledge gained through their reading and discussions to create new and improved evacuation signs for the high school students learned the important role design plays in their everyday lives while also helping to save the lives of everyone in the building through more adequate emergency signage.
---
One less worry - Angela P
My son is a Marine currently serving overseas. While he's off protecting his country, he worries about my safety, especially when I'm driving long distances and even more so now that he can't be here to help me. When I went to buy a new car, I knew it had to be a Subaru. Because of the safety ratings and reputation, I knew it would be one less thing that my son would have to worry about. I'm glad I did! Falcone Subaru is keeping their Love Promise to our active military with their 24/7 service and parts discounts, donations to local non-profits, and excellent service to their customers. What more can I ask for?
---